---
Your Score

| | |
| --- | --- |
| Correct Answers: | |
| Wrong Answers: | |
| Unattempted: | |
---
Question 1
A devotee wants to reach a temple. He started walking towards the east and reaches a road crossings(chauraha in Hindi). He is facing the road that is going towards the east. There is a market on that road. The road to his left is going towards a marriage palace. In which direction is the temple?
---
Question 2
Akshat walks 10 m towards north. From there he walks 6 m towards south. Then he walks 3 meters towards East. How far and in which direction is he with reference to his starting point ?
Soln.
Ans: c
Suppose, Akshat, starts from O and walks 10 m north and reaches E. From E, he turns back, and walks 6 m south, and reaches F. From F he turns towards G and walks 3 m and reaches G.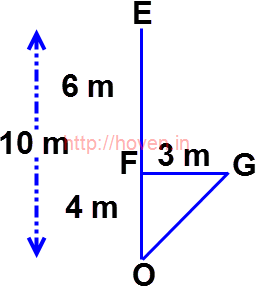 OGF is a right angled triangle. If two perpendicular sides are 3 and 4, then the slanting side is always 5. So OG = 5m. The direction is North-East.
---
Question 3
A bus begins to travel towards East. After travelling 75 km it turns to the left and travels for another 25 km straight. Again it turns to the left and travels a distance of 40 km straight. Again it turns to the left and moves a distance of 25 km. How far is it from the starting point ?
---
Question 4
Jacky drives a cart 30 km in North-West direction, and then 30 km in South-West direction. After this he walks 30 km in South-East direction. The he turns to his left. In which direction is he going ?
---
Question 5
A child crawls 20 m towards North. He turns left and walks 40 m. He again turns left and crawls 20 m. Finally he moves 20 m after turning to the left. How far is he from his starting position ?
---
---
---

This Blog Post/Article "Direction Sense Test Quiz Set 02" by Parveen (Hoven) is licensed under a Creative Commons Attribution-NonCommercial-ShareAlike 4.0 International License.
Updated on 2019-08-18.
---